Finishing Your Chapter 13 Bankruptcy Case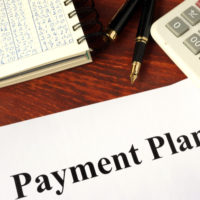 Chapter 13 bankruptcy takes several years to complete and can require some sacrifice on behalf of petitioners, but for those who manage to stick with their payment plans, it can bring numerous benefits without the same long-term credit consequences of a Chapter 7 bankruptcy filing. Learn about how a bankruptcy is completed, and some of the benefits that come only from sticking with your plan to the end.
The length of your plan can vary
Unlike a Chapter 7 bankruptcy case, the length of time your Chapter 13 bankruptcy case will take can vary depending on your debts, and can even change once you've already begun. As a general rule, Chapter 13 petitioners will spend between three and five years making payments toward their plan. If your income changes substantially after your plan is first calculated, or your living expenses change dramatically, then your bankruptcy trustee may make a modification to your plan that could increase or decrease the length of time you're making payments. Plus, your attorney may not be certain of how much you owe on all of your debts when estimating your payment plan. The full amount you owe may affect how long you're making payments.
Closing a Chapter 13 case
If you're in the midst of a Chapter 13 bankruptcy case, your California bankruptcy lawyer will be able to give you an estimate of how much longer you can expect to make payments, or seek a calculation of remaining payments from the bankruptcy trustee assigned to your case. Once these payments are made in full, your trustee will alert the bankruptcy judge overseeing your case. The judge will then declare any remaining balance on unsecured general debts to be discharged, and will close your case.
Benefits you can expect after successfully completing a Chapter 13 case
The greatest benefit you stand to gain after successfully making your payments on a Chapter 13 bankruptcy plan is that you'll be free from unsecured debts without losing your most cherished property. If you had a second or third mortgage stripped as part of your bankruptcy, it will be discharged when your bankruptcy is completed (but could remain an outstanding debt if you failed to complete all payments). For unpaid priority taxes, you'll be free of penalties or interest imposed on that debt if you complete your Chapter 13 plan, but may have those costs imposed again if you fail to make all the payments you owe. While your Chapter 13 case is ongoing, you will not be subject to foreclosure on your home, and the repayment period provides you with time to become current on your house payments. If you were to stop making your Chapter 13 plan payments before you've become current on your mortgage, your bank could initiate foreclosure proceedings once the bankruptcy protections ended.
If you have found yourself under a large amount of consumer debt and need a helping hand in getting free from this debt, contact the dedicated and compassionate Ventura bankruptcy lawyers at Rounds & Sutter for a consultation at 805-650-7100, with additional offices in Santa Barbara and Westlake Village.