Secured versus Unsecured Debt In A Bankruptcy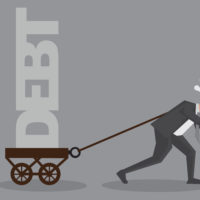 If you are facing an increasing amount of personal debt, you may have begun reading about the process of filing for bankruptcy, and how the court will handle the different types of debt that you owe. Along the way, you've likely encountered the terms "secured" and "unsecured" in reference to different forms of debt, and you may not be certain what those terms mean. Below, you can learn more about these terms and what they mean for your bankruptcy filing. Wading through bankruptcy jargon by yourself can be overwhelming. Contact a California bankruptcy attorney to help you decide whether bankruptcy is the best solution for your financial issues.
What makes a debt "secured"?
The basic difference between secured and unsecured debt is property. A creditor has a secured debt when it has a lien on (i.e., a legal interest in or charge against) something you own. The property against which the creditor has a lien is known as the "collateral" for the debt. Secured debts can be seen as having two parts: the money you owe to the creditor, and the creditor's lien on your property. If you stop making payments on a secured debt, the creditor has the legal right to repossess the collateral. The most common types of secured debts are home mortgages and auto loans, but other examples can include loans used to purchase home appliances or furniture. Unsecured debt is money which was borrowed without being attached to collateral. Unsecured creditors cannot repossess items you own without taking additional legal steps. Credit card debt is a commonly-held form of unsecured debt, as are medical debt, student loan debt, and tax debt. In a future post, we will explain how unsecured debt can become secured debt, and how this change can affect your bankruptcy filing.
What happens with secured debts in bankruptcy?
Chapter 7 bankruptcy eliminates most of the debts you owe to creditors and offers them a reduced settlement amount based on the sale of your non-exempt personal property. When a debt is unsecured, the creditor has no further claim against you after the bankruptcy is closed. When a debt is secured, your bankruptcy filing will eliminate the additional amount that you owe the creditor, but the lien against the collateral will still exist, and the creditor can repossess the property. A bankruptcy attorney can explain how bankruptcy exemptions, lien avoidance, and imperfect liens can change this fact, and can help you use the protections offered under these laws to hold onto as many of your possessions as possible.
If you are considering bankruptcy as a solution for mounting debt, speak with a knowledgeable and experienced California bankruptcy attorney as soon as possible about whether bankruptcy is right for you; contact the Ventura bankruptcy attorneys at Rounds & Sutter for a consultation at 805-650-7100, with additional offices in Santa Barbara and Westlake Village.