Zombie 2nd Trust Deed, Junior Mortgage Lien, or HELOC Secured Debt and Loans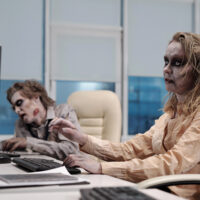 Any of the below apply?
Received a Pending or Threatened Foreclosure against your residence, or income property, from a Zombie Junior Lien, or 2nd (or even 3rd position) Mortgage?
Debt Holder, Investor, or Mortgage company, has demanded payment from you for an aged (forgotten, charged-off, or advised as settled) real property secured loan?
Years have passed and any previous Lender, or current Debt Holder, failed to properly communicate with you, before their present money Demand?
Lender's request to pay or settle Demand is more than you can afford, or their Demand does not appear justified or legitimate?
Discussable issues for our Attorneys, in contemplation of Zombie Debt representation:
Is the Demanded secured debt wholly or partially secured?
a wholly secured Zombie Junior Debt has an equity position in your real property that is not compromised by the senior/1st Trust Deed's Debt, and the value of your real property is sufficiently high to provide enough equity to allow the senior liens, as well as the Zombie Junior Lien, to be paid in full (i.e., $800k value, $500k 1st, $250k Zombie Junior Lien). These "wholly secured" debts are more difficult to resolve, as the Zombie creditor is emboldened by your Equity interests they seek to Foreclose and claim. Partially secured Zombie Lien Holders have debt that is partially secured and partially unsecured (i.e., $800k value, $650 1st, $250k Zombie Junior Lien; the Zombie Lien is subject to bifurcation or separation between the $150k secured portion and the $100k unsecured portion). Rounds and Sutter, LLP represents property owners with either wholly or partially secured debts.
Can Rounds and Sutter, LLP stop Foreclosure and negotiate a Zombie Junior Debt?
Foreclosure in California is a month's-long process, seeking a private Trustee Sale of your property, unless an Agreement, or a Court Injunction, stops the Foreclosure process. Rounds and Sutter, LLP, communicates with your Zombie lender for a written extension of the Foreclosure date, for time to determine your real property rights. State Court Quiet Title filings and Federal Court Chapter 13 filings, both are available leveraged-Injunctive Rights, where Zombie Lender Demands require Court Orders to Cease an unjust Foreclosure.
Options from Rounds and Sutter, LLP to help Zombie Junior Debt property owners?
If you're facing collection or Foreclosure from an aged Junior Debt, Rounds and Sutter, LLP can help. Aged Creditor debts frequently have structural defects (i.e., in noticing their claim or ownership; in the transfer documentation of the claim to a successor Creditor; in the reporting of Creditor monies received for borrower payments or settlement by the borrower or an agency that paid the Creditor or the Creditor Lender's predecessor) that we can legally exploit for our Client's benefit. Rounds and Sutter, LLP, also accesses title documents, including lender and comparable information, that we can legally exploit for our Client's benefit and leverage. In addition to the above legal methods of ceasing, or enjoining Foreclosure, we also utilize California licensed/bonded Escrow agencies, for contentious matters, to ensure such volatile settlements are accompanied by a contemporaneous recorded title release of our Client's property interests.
How can Rounds and Sutter, LLP be engaged to stop a Foreclosure and/or negotiate a Zombie Junior Debt?
Rounds and Sutter, LLP offers flat fee agreements to stop or obtain an Injunction against Zombie Junior Debt Foreclosure. Rounds and Sutter, LLP also offers a low-cost hybrid contingency agreement, for negotiation and settlement of Zombie Junior Debt claims. Call our office directly (805 650 7100), or email us (Admin@RSLawLLP.com) to schedule a consultation.