What Happens at a Meeting of Creditors in Chapter 7 Bankruptcy?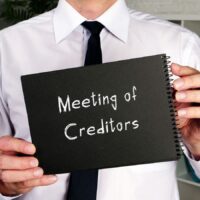 The meeting of creditors is a required step in the process of obtaining debt relief through Chapter 7 bankruptcy. For many debtors, the idea of having to attend a meeting of one's creditors in a formal legal setting may sound daunting, but in reality the meeting of creditors is nothing to fear at all. Read on to learn more about what the meeting of creditors is and what you can expect when you attend such a meeting. For more information or to discuss how Chapter 7 bankruptcy might help you get out from under the stress and anxiety of overwhelming debt, contact the Southern California bankruptcy lawyers of Rounds & Sutter at our offices in Ventura and Westlake Village.
The 341(a) Meeting of Creditors Explained
Named after Section 341(a) of the Bankruptcy Code, the Meeting of Creditors is an obligatory session that happens after you file for Chapter 7 bankruptcy. Generally, this meeting takes place about 20 to 40 days post-filing. The purpose of the 341(a) Meeting of Creditors is to give your creditors and the U.S. Bankruptcy Trustee the opportunity to ask you questions about your bankruptcy papers and financial situation under oath.
Despite its somewhat intimidating title, the Meeting of Creditors typically does not involve the attendance of your actual creditors. In most cases, it's just you (the debtor), your attorney, and the bankruptcy trustee, although creditors do have the right to attend and pose questions if they wish.
What Questions Are Asked During a Meeting of Creditors?
The questions raised during the 341(a) Meeting of Creditors revolve around your financial affairs, properties, and the information disclosed in your bankruptcy documents. Some common questions include:
Did you read and understand all the documents before signing them?
Are all your assets and debts accurately listed?
Have you sold, transferred, or given away any property in the last two years?
Remember, honesty is paramount as you are under oath during this meeting. Your attorney will be there with you if you are unsure of how to answer any question.
How Long Does a Meeting of Creditors Last?
While it may vary, the typical Meeting of Creditors is relatively brief, often lasting only about five to ten minutes. It might extend longer if the trustee or creditors have numerous or complex questions, but this is rare in most Chapter 7 proceedings.
The Role of Your Attorney at the Meeting of Creditors
Your attorney plays a crucial role in this process. They will prepare you for the meeting, advise on legal aspects, and accompany you to provide guidance and support. An experienced attorney from Rounds & Sutter will ensure you are well-equipped to handle any inquiries, provide necessary clarifications, and navigate the meeting smoothly.
The Meeting of Creditors in the Overall Chapter 7 Bankruptcy Process
The 341(a) Meeting of Creditors is just one step in the Chapter 7 bankruptcy process. After filing your petition, you'll be appointed a bankruptcy trustee who will arrange the Meeting of Creditors. Post-meeting, you may need to deal with reaffirmation agreements or objections to discharge. Eventually, you'll receive a discharge of debts, which is the main goal of Chapter 7 bankruptcy.
Understanding the steps and requirements involved in a Chapter 7 bankruptcy filing can be challenging, but with Rounds & Sutter at your side, you have access to skilled, compassionate, and dedicated legal representation. We help clients navigate the complexities of bankruptcy, including the crucial 341(a) Meeting of Creditors, to offer you the best possible path toward financial recovery.
Get Started on the Path to Financial Freedom With Rounds & Sutter in Southern California
If you're considering filing for Chapter 7 bankruptcy in Ventura, Westlake Village, or anywhere in Southern California, feel free to reach out to us at Rounds & Sutter. We're here to provide the guidance and legal advice you need. Call us at 805-650-7100 for a free consultation to get started today.