Ways to Get Out of Debt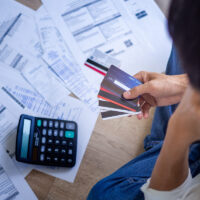 According to a 2021 CNBC report, the average American owes more than $90,000 in debt. It's easy to get bogged down with medical costs, credit card debts, mortgages, car loans, and other bills. If you're dealing with mounting debt like millions of other people across the country, know that there's a pathway to relief. Below, we discuss several options for getting out from under crushing debt. The best option for you depends on your specific circumstances. Call a knowledgeable Ventura debt relief and bankruptcy attorney for help exploring your debt relief options in Southern California.
Debt Consolidation
Debt consolidation refers to the process by which you take all of your various debts and consolidate them into a single monthly payment. When executed properly, the interest on the single remaining monthly payment will be lower than the interest rates for the prior debts, reducing your monthly obligation and the amount you will ultimately pay over time. Debt consolidation also reduces the administrative hurdles inherent in keeping track of a variety of different bills, and it may give a debtor extra time to pay off what they owe.
Debt consolidation takes one of two forms:
Debt consolidation loan. One option for debt consolidation is to take out one large personal loan and use the proceeds to pay off the other debts. If you have good credit, your interest rate on the personal loan may be lower than your rates from other debts–credit cards, prior personal loans, medical bills, etc. You may need to secure the loan against your car or house (i.e., a mortgage), or the loan may be unsecured. Unsecured loans tend to have higher interest rates.

Credit card. Credit card providers often offer "balance transfer" cards with reduced, promotional interest rates. If your debt consists mainly of various other credit cards or even other forms of debt, you can use a newly opened credit card to pay off the other bills. Credit card debt consolidation is especially useful if you believe you'll be able to pay off the card while the promotional rate is still active. Balance transfer cards may introduce exceptionally high rates after the expiration of the promotional rate, however, so it's important to tread carefully.
Refinancing and Loan Modification
Mortgage refinancing replaces your existing mortgage loan with a new loan, typically at a lower interest rate (or a change from adjustable to fixed rate) and/or a longer payment term. Well-qualified buyers with good credit can seek mortgage refinancing, especially if they have significant home equity. Refinancing may not always be advisable, as it may extend the life of the loan and result in the borrower paying more in the long term.
Loan modification, on the other hand, is an adjustment to the terms of your existing loan, typically a mortgage. Mortgagors might be willing to negotiate a reduced interest rate, a longer payment period, or an adjustment between a fixed and variable interest rate. A loan modification is typically reserved for borrowers experiencing financial hardship who cannot qualify for a refinance.
Bankruptcy
Depending upon your financial circumstances and the extent of your debt, you may be best served by filing for bankruptcy. There are different forms of bankruptcy. The two bankruptcy options most commonly utilized by individual debtors both offer reduced obligations, a stay on all collection proceedings, and a clean-slate discharge of covered debts that remain after the bankruptcy process.
Debtors with regular income who would benefit from a reduced monthly obligation and additional time to get up-to-speed with payments can file for Chapter 13 bankruptcy. Chapter 13 involves consolidating covered debts into a three or five-year repayment plan and discharging whatever covered debts remain at the end of the plan period.
Debtors with low income and few assets may qualify for Chapter 7 bankruptcy. In a Chapter 7 proceeding, an appointed bankruptcy trustee will collect certain non-exempt assets for sale and use the proceeds to pay off as much of the covered debt as possible. The remaining covered debts will be discharged. With a skillful approach to exemptions, debtors can often achieve a discharge of debt without having to sell any assets.
Find Your Financial Independence With the Help of a Compassionate Southern California Debt Relief Attorney
If you are dealing with mounting debt and considering debt relief options including bankruptcy, please contact Rounds & Sutter for a free, confidential consultation. With offices in Ventura, Santa Barbara and Westlake Village, we represent clients throughout Southern California, offering trusted, effective legal counsel in the face of life's challenges.