Nine Tips to Repairing Bad Credit and Getting Back on Track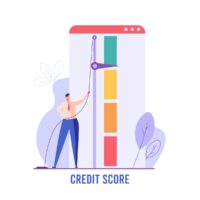 Having bad credit can keep you from accomplishing some of your important financial goals, including purchasing a home or a vehicle. Even if you are not looking to make a big purchase, having bad credit can often bring with it a level of stress that only grows over time.
If you are dealing with bad credit, you do have some options that can get you back on the right track. The first step to repairing bad credit is understanding your credit score. Your credit score is a three-digit number that is calculated by a credit bureau. There are three main bureaus that lenders reach out to when they are trying to determine whether you are a credit-worthy individual. These three credit bureaus include Equifax, Experian, and Transunion.
Each of these bureaus offers its own credit report that reflects your history with credit for the past 10 years. These credit reports are what are used to calculate your credit score. Because of this, your credit score may slightly differ depending on which bureau reports your score. The difference, however, is very minor.
Understand Your Credit Report

When trying to repair your credit, it's important to understand what is in your credit report. Your credit report will show your personal information, your credit account history, credit inquiries, public records, and any personal statements you have added. When you examine your credit report, look at your credit history to see what open lines of credit you have and whether all of the accounts are accurately updated.

While it's rare, some credit reports can include inaccurate information such as accounts that don't belong to you. This inaccurate information will have an impact on your credit score. If you find any details in your credit report that are not accurate, you may be able to dispute them to have them removed from your report. Disputed claims that are removed can help you repair your credit.

Request a Free Credit Report

While requesting a credit report can come with a fee, there are several ways to get your report for free. Each of the three credit reporting bureaus has its own guidelines about requesting a credit report. When you sign up for an Experian account, you will be given a free credit report every 30 days. Equifax will also allow you to have access to six credit reports every year when you sign up for a MyEquifax account. TransUnion operates with AnnualCreditReport.com to give you a free annual report as well.

When you are trying to repair your credit by examining your credit report, it can help you to obtain a report from each of these credit bureaus. This will allow you to compare the information that is in all three reports. By comparing the information, you may be able to find errors and claims that you could potentially dispute. And when you do find these issues, you'll be able to know which bureau to reach out to regarding which dispute to begin repair of your credit score.

Information to Repair

When you examine your credit report, look for these three issues as they will be the factors that can have the greatest impact on your overall credit score:
Information about accounts that may not belong to you or were incorrectly reported.
Accounts that are past due or have been sent out to collections.
Accounts that have been maxed out or have reached the credit limit.
Dispute Credit Report Errors or Misinformation
If you find incorrect information or errors on your credit report, disputing them can help you remedy the error and raise your credit score. You can dispute errors online, over the phone, or through the mail. However, the best method to use when disputing a charge is by mail.
When you mail in a dispute, you can attach any supporting document that will help your case. This will also allow you to have a paper trail so that if issues arise over the course of your dispute, you'll have the proper documentation to back it up.
Settle Charge-Offs
A charge-off is an account status used to describe an account that is past due by 180 days or more. Charge-offs are one of the worst account statuses to have and can hold a very heavy weight on your credit score.
If an account is approaching a charge-off, contacting the lender to negotiate any payment details can help you word avoid this status. If you do have a charge-off, you'll still be responsible for paying it off. The sooner you pay it off, the better. Over time, the settled charge-off will have a weaker influence on your credit score.
Pay Down Your Debts
If you have a substantial amount of debt, it can be overwhelming to think about paying it off. However, paying off your debt can help you gain financial freedom and rebuild your credit.
One of the best methods to use when paying off debt is the debt avalanche or snowball method. This method requires you to begin paying off your debts from smallest to greatest. If you have a lot of credit cards, start by paying off the account that has the smallest balance. Then work your way to the next smallest balance and so forth.
These small little victories will allow you to build up the momentum to knock off all of your debt. As you begin to pay off your debt, you may notice that your credit score will dip just a little bit. However, in the long run, paying off your debt will allow you to have a manageable financial system that will in turn help you boost your credit score.
Past Due Accounts Vs. High Balance Account
Just because an account has a high balance doesn't necessarily mean this is the debt that you should pay off first. Prioritize accounts that are close to becoming past due. If you can make these payments before they are due, you will have a better chance of stopping any additional harm to your credit score and avoiding Charge-offs.
After you settle accounts that are becoming past due, work on bringing down the debt of your high balance accounts. Accounts that have already been charged off or sent to a collection agency should be the third item on your priority list.
Don't Close Out Old Credit Cards
Once you pay off a credit card, it can be to your benefit to keep the account open. While you don't necessarily have to use the credit card, having the credit card open will allow you to show that you have a long credit history on your credit report. This in turn can help boost your credit score.
Pay Your Bills on Time
The most important and straightforward way to begin repairing bad credit is by keeping up-to-date with your bills. The best way to show that you are a creditworthy person is by making your monthly credit payments on time. Whether this is a car loan, a credit card, or any other line of credit, payments made regularly will help repair your credit score.
Build New Credit
It can help you to take out new lines of credit to build up your credit score up again. The important thing to consider with this tip is that you should only take out credit that you know you can afford. In some instances, you may be able to open a new credit card account to use on bills that you will be paying anyway. For example, if you can pay your utilities with a credit card, consider opening a new line of credit to pay your utilities. If you are going to open a new line of credit, it is extremely important that you budget adequately so that you can make your payments on time.
Seek Assistance
When you work on repairing your credit, it can be a very overwhelming and stressful process. There are resources available that can help you when it comes to consumer credit counseling. There are several nonprofit counseling agencies that you can connect with through the National Foundation for Credit Counseling or the Financial Counseling Association of America. These organizations can help you come up with a game plan to begin the necessary steps in credit repair.
If you are dealing with mounting debt and considering debt relief options including bankruptcy, please contact Rounds & Sutter for a free, confidential consultation. With offices in Ventura, Santa Barbara and Westlake Village, we represent clients throughout Southern California, offering tried & true legal counsel in the face of life's challenges.