Regular Smog Test vs. STAR Smog Test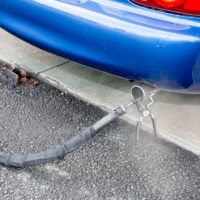 California's Bureau of Automotive Repair (BAR) licenses automotive repair stations to conduct SMOG tests and repairs. The state also offers special licenses to certain smog check stations that opt to be part of the STAR Program. For vehicle owners, the difference between a smog check and a STAR smog check can be confusing. Below, we clarify the difference between regular smog check stations and STAR stations, and the services they provide. If you are a station owner, reach out to a professional smog check license defense and STAR invalidation lawyer for help defending against BAR investigations or customer complaints.
Smog Test vs. STAR Test
California drivers are required to get regular smog tests for their vehicles. Some drivers are required to visit a STAR station for a smog test, according to the DMV's renewal notice. Many drivers are confused by the difference and worry that it may be more expensive, more inconvenient, or indicate that something is wrong with their vehicle.
Smog tests can be conducted at a wide variety of smog check stations. Certain smog check stations, however, have chosen to participate in the BAR's STAR program. A STAR smog station is subject to additional oversight and review by the BAR, and they conduct more strenuous smog testing. There are two types of STAR smog stations: STAR Test Only Centers, which are licensed only to conduct smog tests; and STAR Test & Repair Centers, which are authorized to both conduct smog checks and to conduct smog check repairs. STAR stations can conduct both regular and STAR smog checks.
If a vehicle owner is required only to get a standard smog check, they can go to any smog check station. If they are required to go through a STAR smog check, they'll go to a STAR station. A STAR smog check is more thorough than a standard smog check.
Which Vehicles are Selected for a STAR Smog Check?
Not every vehicle needs to be tested at a STAR station. Many vehicles can be tested at a regular smog check station. Certain vehicle owners, however, may be asked to conduct a special test at a STAR station. The State of California generally uses three criteria to determine which vehicles should be required to go to a STAR station:
Gross polluters. Vehicles that have failed a previous smog inspection and that have high emissions readings will be required to go to a STAR station.
High Emitter Profile. The BAR has identified certain types of vehicles as having a high chance of failing the smog inspection. These vehicles will be required to visit a STAR station for smog testing.
Random sampling. In addition to vehicles targeted for STAR station testing, the BAR will also pick a random sample of all vehicles registered in California that are driven on public roadways. Much like the "random search" at the airport TSA, owners of the vehicles identified at the random sample have no choice but to go to a STAR station for smog testing.
Call Smog Check License Defense Attorneys Rounds & Sutter for Help Protecting Your Smog Check Business Southern California
For experienced, effective, and thorough help with your California BAR hearing, smog check license or other BAR license issues, reach out to the Ventura smog check license defense lawyers Rounds & Sutter at 805-650-7100.