Pros and Cons of Filing Bankruptcy Jointly With Spouse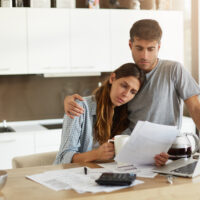 Financial struggles are never easy, and they can be especially complex when they involve a married couple. It is not at all uncommon for married couples to be struggling together with debt troubles, so it's not surprising that many consider filing for bankruptcy together as well. This move often makes the most sense, but there are pros and cons to filing jointly, and the decision should be made only after first consulting with a knowledgeable bankruptcy attorney. Below we review the pros and cons of spouses filing bankruptcy jointly. For a personal discussion regarding your unique circumstances, contact Rounds & Sutter for a free consultation with an experienced and successful Southern California bankruptcy lawyer.
Pros of Filing Bankruptcy Jointly
1. Unified Debt Discharge
Filing bankruptcy jointly allows married couples to eliminate their shared debts together. Whether the debts are in one name or both, filing together covers them under a single bankruptcy case.
2. Cost-Effective
Joint filing often means only paying one filing fee and hiring one attorney. This approach could save money, especially if both spouses have significant debts.
3. Streamlined Process
Joint bankruptcy cases usually simplify the process by handling both spouses' debts simultaneously, avoiding the need for multiple proceedings.
4. Enhanced Exemptions
In some cases, filing jointly may double certain exemptions, offering better protection for shared assets, such as your home or car, depending on applicable California state laws.
Cons of Filing Bankruptcy Jointly 1. Potential Loss of Assets
In a joint filing, all of the couple's property becomes part of the bankruptcy estate. Depending on the type of bankruptcy filed and specific state laws, this could put some assets at risk.
2. Joint Responsibility for Debts
If both spouses are liable for a significant debt, and one spouse does not fulfill their obligation under the bankruptcy agreement, the other may be held responsible.
3. Credit Impact
A joint bankruptcy will be reported on both spouses' credit reports, potentially affecting their ability to secure credit or loans at favorable rates in the future.
4. Complexity in Separation or Divorce
If a separation or divorce occurs during the bankruptcy process, it can add significant complexity to the proceedings. The timing and type of bankruptcy might need to be carefully coordinated.
Get Professional Guidance to Make the Best Decision in Your Bankruptcy Filing
Making the decision to file bankruptcy jointly or separately is an important decision that requires careful consideration. Every situation is unique, and the laws surrounding bankruptcy in California can be complex.
The experienced attorneys at Rounds & Sutter understand the intricacies of bankruptcy law and can help guide you through this challenging decision. With a comprehensive understanding of both federal and California-specific regulations, we are well-equipped to provide you with the personalized advice needed to navigate your unique financial situation.
By seeking professional guidance, you can ensure that you make the most informed decision possible, taking into account all relevant legal and financial factors. Whether you are leaning toward filing jointly or separately, the law firm of Rounds & Sutter stands ready to assist you in making the best decision for your financial future. Call 805-650-7100 to discuss your needs over the phone or schedule a consultation at our offices in Ventura and Westlake Village.