Is Discharging Student Debt through Bankruptcy Truly Impossible?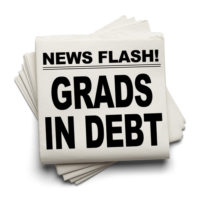 After graduating from a university, obtaining a graduate degree, or completing a professional program, you may have expected that any debt that you took on in the form of student loans would end up paying off in the form of higher earning potential. As numerous recent news stories have shown, this is not always the case, due to factors such as manipulation of post-graduate employment statistics by learning institutions and fundamental changes to the US job market. In fact, you may find yourself overwhelmed by debt and considering filing for bankruptcy in order to give yourself a fresh start. Even if you file for bankruptcy, will you still be stuck paying off that student loan for the rest of your life? Not necessarily. There are, in fact, narrow circumstances under which bankruptcy petitioners can eliminate student debt.
Current law requires an undue hardship to discharge a student loan in bankruptcy
Under current federal bankruptcy law, student loans are not dischargeable through bankruptcy unless a failure to discharge them would cause the bankruptcy petitioner undue hardship. What makes a hardship "undue" is determined by one of two tests, as determined by past bankruptcy cases. The first of these, known as the Brunner test, asks whether 1) continuing to pay the loan would make it impossible for the borrower to afford a minimum standard of living; 2) whether the borrower anticipates a change in their financial circumstances; and 3) whether the borrower has tried in good faith to make payments toward the balance of their loans. If the court concludes that the borrower would live in poverty if forced to continue making loan payments, and there is no reason to believe that the borrower will soon make enough money for that not to be the case, then the court can discharge those loans. The second test that bankruptcy courts can use to determine hardship is known as the "totality of the circumstances" test. This test allows courts to consider such factors as whether the petitioner has had serious health problems, the petitioner's employment history, or has had children, to assess whether requiring that petitioner to continue making student loan payments would be an undue burden.
Consumer advocates are pushing for bankruptcy reforms for student loans
In addition to the ways in which bankruptcy petitioners can currently discharge student debt, many consumer advocates and lawmakers have begun advocating for a less restrictive way to discharge student debt through bankruptcy—a group of advocates which includes the consumer advocate attorneys at Rounds & Sutter.
If you are a Southern California resident facing mounting debt and would like to discuss your options moving forward, including debt reduction and bankruptcy, speak with the knowledgeable and compassionate bankruptcy and consumer law attorneys at Rounds & Sutter for a consultation at 850-650-7100, with offices located in Ventura, Santa Barbara, and Westlake Village.