How to Decide on a Bankruptcy Attorney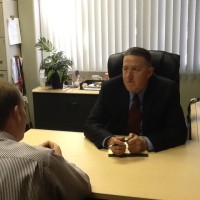 After struggling to pay your debts, you're ready to consider bankruptcy. Filing for bankruptcy is a very emotional and last resort for you or for your business. It is a complicated process, and you may stressed and feeling overwhelmed when you begin the process. That is why it is important to choose the right bankruptcy attorney, who can inform you but also guide you through the multi-step process and help you make tough decisions along the way.
Your bankruptcy attorney should:
Specialize in bankruptcy
It can be tempting to hire the cheapest attorney or perhaps a friend who just passed his bar exam or hiring a paralegal to do your paperwork. However, filing for bankruptcy involves a long series of complicated decisions, and requires guidance from an attorney who is familiar with each step in the process. Choose a quality bankruptcy attorney who has specialized in bankruptcy law for several years and you feel comfortable speaking with. It is also a good idea to make sure they are part of the National Association of Counsel Bankruptcy Attorneys (Also known as NACBA).
Support you at every step of the process
Sure, there are probably advantages to hiring a large law firm to handle your bankruptcy case. However, bankruptcy can feel very personal and emotionally draining and you do not want to add more stress to the situation by feeling lost in a system where you do not know anyone. In most cases, a smaller law firm will feel more comforting to you. When you call your bankruptcy attorney to ask questions or check on the status of your case, you should quickly receive the answers you need without lengthy delays.
Have a positive record. Check with the State Bar of California before hiring a bankruptcy attorney. You'll be able to find out if a particular attorney has had multiple complaints filed against him or her.
Provide a free, in-person consultation
You should feel comfortable with the attorney you ultimately choose to represent your interests. Look at it as if you are interviewing surgeons, you want someone knowledgeable but able to communicate with you the process. An in-person consultation allows you the opportunity to assess a particular attorney's personality, work style, and support staff. You will be working with the attorney and their staff for several months or longer, so it's important to choose an attorney whom you can trust.
Be able to clearly answer your questions
You probably have many questions about bankruptcy – how the process works, which type of bankruptcy you should choose, if your personal property will be protective and how it will affect your life in the long run. Your bankruptcy attorney should be able to answer these questions enough to de-mystify the process for you. You should leave your consultation feeling confident in your decision, with a clear path laid in front of you.
If your bankruptcy attorney can not do the above you might have to consider finding another attorney who can because bankruptcy is not an easy thing to do on your own.