FTC Goes After Shady Student Loan Debt Relief Operation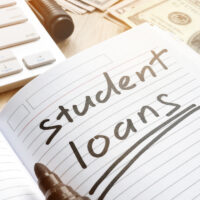 We've discussed student loans before. More than 44 million borrowers in the U.S. collectively owe $1.5 trillion in student loan debt. It's a significant problem for our economy and American consumers struggling with debt. There are appropriate debt relief options for alleviating the burden of student loans, including bankruptcy in proper circumstances. There are also predators out there, however, who aim to take advantage of consumers drowning in debt. The Federal Trade Commission (FTC) recently pursued legal action against two unscrupulous student loan debt relief operations. The incident highlights the importance of consulting with a qualified and compassionate California bankruptcy and debt settlement attorney if you are struggling with debt in order to find the best solution for you.
FTC charges purported debt relief companies for collecting fees in exchange for empty promises
The FTC recently charged two student loan debt relief operations, Mission Hills Federal and Federal Direct Group, as well as the financing company that supported them, with bilking more than $23 million from thousands of consumers with false claims that they would service the consumers' debt and pay down their student loans.
According to the FTC's complaint, the operations lured consumers into paying hundreds of thousands of dollars in illegal upfront fees in exchange for false promises that they would lower the consumers' monthly student loan payments. Additionally, the "debt relief" groups tricked consumers into submitting their monthly student loan payments directly to the defendants by falsely claiming to take over servicing the loans. In reality, the defendants either submitted minimal payments on the loans or, in many cases, sent none of the money to the lenders and instead kept all of the consumers' payments for themselves. The defendants went so far as to obtain consumers' U.S. Department of Education login IDs and passwords so that they could change consumers' contact information in order to prevent lenders from communicating with the consumers directly (for example, to prevent them from telling consumers that they had not been receiving any payments).
According to the Director of the FTC's Bureau of Consumer Protection: "Anyone asking for upfront fees to help with student loan debt is likely a scammer, and consumers should hang up and alert the FTC." If you are struggling with student loans or other debt, reach out to a seasoned debt relief attorney to explore your options.
Talk to an Experienced Southern California Bankruptcy Attorney
If you or your company are struggling with debt and considering bankruptcy or other debt relief solutions, please contact Rounds & Sutter for a free consultation. With offices in Ventura, Santa Barbara, and Westlake Village, we represent clients throughout Southern California, offering smart, compassionate legal counsel in the face of life's challenges.