When Can I File for Bankruptcy Again?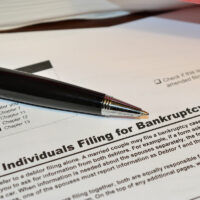 Bankruptcy is never anyone's first choice for dealing with financial hardship, although much of the associated stigma is evaporating as more and more Americans turn to bankruptcy as a reasonable and appropriate solution for recovering from money issues. Moreover, the vast majority of Chapter 7 and Chapter 13 bankruptcies (over 97 percent) involve individuals struggling with consumer debt, according to official reports. For a growing number of Americans, one bankruptcy may not be enough, and you may find yourself going through the process multiple times. If you did file previously, what are the time limits for filing a subsequent bankruptcy?
There is technically no time limit for repeat filings
It is worth noting that federal bankruptcy law does not set a minimum time between bankruptcy filings. You can file for a second bankruptcy right after a previous bankruptcy has been submitted. However, filing for subsequent bankruptcy too soon will prevent you from actually receiving another discharge or forgiveness of your debt, which is the main reason that most people file for bankruptcy.
Under limited circumstances, you may have reason to file quickly for a subsequent bankruptcy even though you will not get to discharge your debts. You may still take advantage of the automatic stay of collection efforts, for example, giving you time to pay off existing nondischargeable debt. Your bankruptcy attorney can help you determine whether this option suits your needs.
There are minimum time periods for receiving another debt discharge
In order to secure debt discharge/forgiveness for new debts after previously filing for bankruptcy, you must wait a minimum amount of time. How long you must wait depends on the type of bankruptcy you are filing for now and the kind of bankruptcy for which you previously filed.
If you previously filed under Chapter 13 and you are trying to file again under Chapter 13, you must wait at least TWO years from filing your prior bankruptcy. It turns out that this time buffer is no real hurdle since basically all Chapter 13 bankruptcies take at least three years to complete. However, if you previously filed under Chapter 13 and you wish to file now under Chapter 7, you must wait SIX years from the previous Chapter 13 filing date. You may be able to file again under Chapter 7 sooner if you have either fully paid your unsecured creditors in the Chapter 13 case or if you have paid at least 70% of your claims, so long as the plan was proposed in good faith and you have made your best effort to repay your debts.
If you previously filed under Chapter 7 and you wish to file now under Chapter 13, you must wait at least FOUR years from the Chapter 7 filing. For people seeking to file under Chapter 7 twice in a row, you must wait EIGHT years from the date of your last Chapter 7 filings. Eight years is, indeed, quite a long time.
The time limit starts when you file the first bankruptcy, not when the case concludes or the debt has been discharged. If the case was dismissed or concluded without a discharge, then you can file again at any time and still receive a discharge.
Talk to an Experienced Southern California Bankruptcy Attorney
If you're struggling with debt and considering bankruptcy, please contact Rounds & Sutter for a free, confidential consultation. With offices in Ventura, Santa Barbara and Westlake Village, we represent clients throughout Southern California, offering smart, compassionate legal counsel in the face of life's challenges.