U.S. Supreme Court to Address When Denial of Creditor's Motion to Lift Bankruptcy Stay Can Be Appealed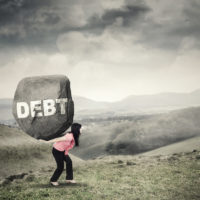 One of the most important and useful parts of filing for bankruptcy is that a bankruptcy automatically stops any collection activity by outstanding creditors. Creditors cannot proceed with lawsuits, evictions, foreclosures, utility disconnections, or other collection activities once notified of a bankruptcy proceeding and the automatic stay. The automatic stay is a welcome relief for many debtors struggling to figure out their finances in order to either repay or secure a discharge for their debt.
Creditors, for obvious reasons, are often unhappy when a stay interrupts their collection activities. Creditors may seek to "lift the stay" and proceed with their collection based on certain provisions under the bankruptcy laws. If a court denies their motion to lift the stay, however, and the creditor thinks the court made an error on the law, must the creditor wait until the bankruptcy proceeding is concluded in order to file an appeal? Or can the creditor expedite the process and appeal immediately, robbing the debtor of their much-needed breathing room sooner? The U.S. Supreme Court is set to answer this question.
Supreme Court to consider whether and when denial of a motion to lift a stay is an appealable "final order"
In a typical lawsuit, the trial court will rule on a variety of motions regarding the admission of evidence, points of law, jury instructions, and others. When a party loses a motion, they often want to appeal immediately, fearing that the unfavorable ruling will tank their entire case. In order to prevent appeals from stalling every lawsuit, federal law limits appeals to "final orders." Final orders are those that could end the case entirely or on specific issues, such as a motion for summary judgment. There are a few additional types of orders that are immediately appealable based on specific federal provisions.
In the case of Ritzen Group Inc. v. Jackson Masonry, LLC, on petition from the Sixth Circuit Court of Appeals, the U.S. Supreme Court is set to address whether a court's denial of a creditor's motion to lift a bankruptcy stay qualifies as an appealable "final order" under federal law. Ritzen had sued Jackson for breach of contract. Just before trial, Jackson filed for bankruptcy, which automatically stayed the litigation. Ritzen motioned for the bankruptcy court to lift the automatic stay and was denied. Ritzen later appealed, but the bankruptcy court said it was too late; the denial should have been appealed right after it was issued. Ironically, Ritzen, the creditor in this instance, argues that the denial of a motion to lift a stay is not appealable because it is not a final ruling on the merits of the case.
On appeal, the Sixth Circuit held that a denial of a motion to stay is always a final order because it "ends a proceeding, fixes the rights of the parties, and has significant consequences for them." Several other circuit courts agree with the Sixth Circuit, while two circuit courts have gone a different direction and applied a case-by-case test as to when a denial of relief from the bankruptcy stay qualifies as a final appealable order. The Supreme Court is poised to issue the final word on the matter, which will have significant effects on creditors and debtors in future bankruptcy proceedings.
Talk to an Experienced Southern California Bankruptcy Attorney
If you or your company are struggling with debt and considering bankruptcy, please contact Rounds & Sutter for a free consultation. With offices in Ventura, Santa Barbara, and Westlake Village, we represent clients throughout Southern California, offering smart, compassionate legal counsel in the face of life's challenges.