What Happens if I get in a Car Accident While in Chapter 13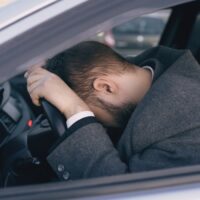 When you are in the middle of a Chapter 13 bankruptcy, the last thing you need is another financial hardship. You are midway through paying off your unsecured debt, and suddenly you need to pay for property damage, medical costs, and other related expenses, and you may be facing time off of work. Moreover, if you have a claim for damages against the other driver, does that affect your bankruptcy plan? Continue reading for a discussion of what will happen when you are injured while in the middle of the Chapter 13 bankruptcy repayment process.
What if my car is totaled?
If your car is damaged in a car accident while you are in the middle of Chapter 13, you should discuss the matter with your bankruptcy lawyer. If you have a loan secured by the vehicle, you will have to notify the lender of the damage, as well as your insurance company. If the vehicle repayment is part of the plan and your car is totaled, then the insurance company will pay any settlement into the repayment plan (ultimately, to the lender). If another party is at fault for your accident, then you may seek coverage from their insurance company.
Your attorney can then file a motion to modify your plan by taking the vehicle out of the plan. You may even be able to use some of the insurance proceeds to purchase a new vehicle, depending on the circumstances and the outstanding value of your debt. Your bankruptcy attorney will help you navigate the process and ensure that the insurance proceeds go to the appropriate parties.
What if I am injured?
If you are injured in a car accident, you may have a personal injury claim against the other driver. Any recovery you get from your personal injury claim will, in turn, affect your Chapter 13 proceedings. You should immediately notify your insurance company and your bankruptcy attorney, and contact a personal injury lawyer for help with your injury claims.
The damages you may recover for your personal injury claim (as well as your medical bills and other associated costs) may change the calculus for your Chapter 13 plan. Consult with your personal injury attorney about the value of your claim, and then take that information to your bankruptcy lawyer. Your bankruptcy lawyer will file amendments to your bankruptcy schedules to reflect the claim and the potential value, as well as claim any available exemption under the federal and state bankruptcy laws.
Your personal injury claim will become part of your Chapter 13 proceedings–the bankruptcy court may need to approve any settlement on your claim, and a portion of that settlement will likely go towards your Chapter 13 repayment plan. The type of exemptions you have claimed to date may affect how much of your injury award will be exempt under California law. Discuss the matter with your attorney to make sure that you avoid violating any of the complicated bankruptcy rules and regulations.
Contact a Dedicated Southern California Bankruptcy Attorney
If you're struggling with debt and considering bankruptcy, or you encounter an unexpected event while going through bankruptcy, please contact Rounds & Sutter for a free, confidential consultation. With offices in Ventura, Santa Barbara and Westlake Village, we represent clients throughout Southern California, offering seasoned, effective legal counsel in the face of life's challenges.