U.S. Secretary of Education Sanctioned for Collecting on Loans of Defrauded Students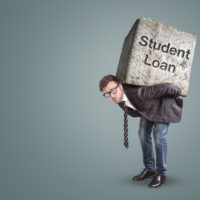 Student loan debt is one of the biggest contributors to individual debt in the United States.  As of March 2019, student loan borrowers owed a collective $1.6 trillion in federal and private student loan debt.  While that number alone is cause for reflection on our educational system, in recent years, much of that debt has been incurred in connection with for-profit schools rather than traditional universities.  Many of these for-profit schools have before as scams that defrauded students out of their money with false promises of employability and inflated claims about the value of their degrees. 
Lawsuits and investigations brought by students, families, and government agencies have sought to stop these fraudulent practices and give some measure of relief to the indebted students.  Education Secretary Betsy DeVos has herself run afoul of certain court orders issued in connection with these fraud actions.  If you are struggling with student loan debt, a seasoned California bankruptcy and debt settlement attorney can help you determine if you are eligible for debt relief or other solutions.
Court orders Department of Education to stop collecting loans from defrauded students
The for-profit schools operated and owned by Corinthian Colleges, Inc. were charged with misleading prospective students about job placement rates between 2010 and 2014, maliciously tricking students into attending their schools.  Graduates would later find themselves thousands of dollars in debt with no job prospects to show for it. 
Before 2017, the Department of Education provided full relief for students who obtained federal student loans to attend these scam programs.  Starting in 2017, the Department switched to granting partial to full relief for those borrowers based upon their average earnings.  In May 2018, a federal court in California ordered the Department to cease any action to collect on loans from students that fell into groups that had been identified prior to 2017.  Regardless, the Department (claiming it was a mistake) sent another 16,000 collection notices to these students after May 2018.  At least 3,000 students made payments in response to the notices.
In late October 2019, after further legal action against the Department of Education, the federal court found that the Department, led by the Secretary of Education, had flagrantly violated the court's prior order.  The judge held Secretary DeVos and the Department in contempt of court and ordered the defendants to pay $100,000 in sanctions.  If the Department continues to defy the court's prior order, it may be subject to additional sanctions.
Talk to an Experienced Southern California Bankruptcy Attorney
If you're struggling with debt and considering bankruptcy or other debt-relief options, please contact Rounds & Sutter for a free, confidential consultation.  With offices in Ventura, Santa Barbara and Westlake Village, we represent clients throughout Southern California, offering smart, compassionate legal counsel in the face of life's challenges.